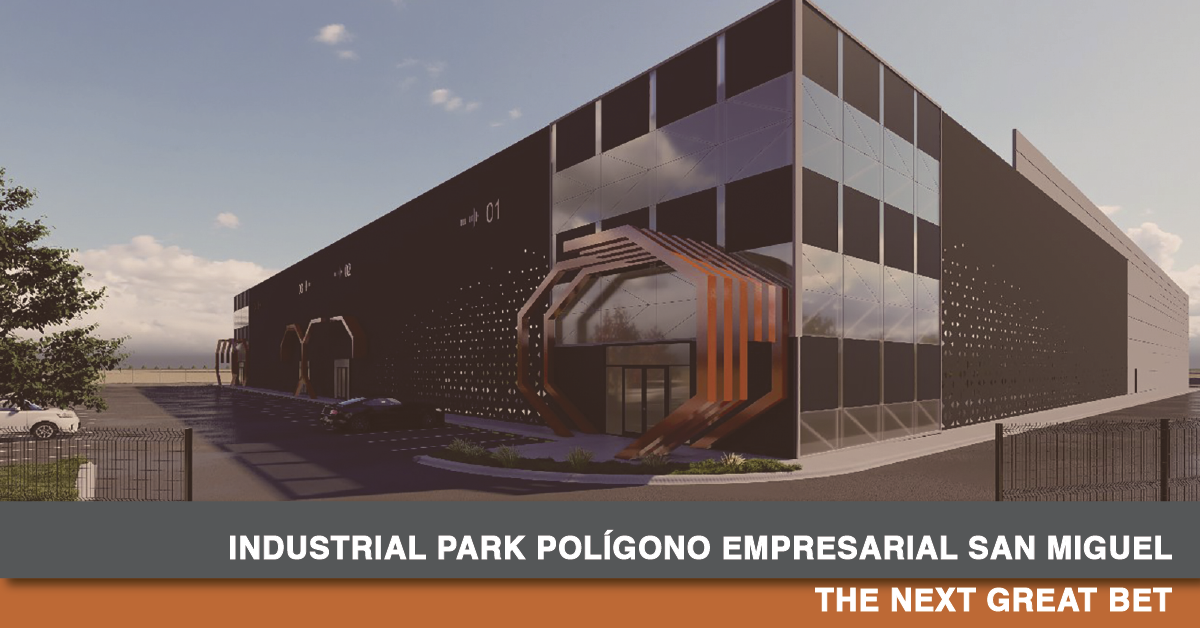 On the Queretaro – San Miguel de Allende road, just a few kilometers from the Industrial Zone of Santa Rosa Jauregui, Industrial Park Polígono Empresarial San Miguel is located. This industrial park is built with the best infrastructure, technology and design as good as any of the large industrial complexes worldwide.
For several decades the State of Guanajuato has focused its energy in growing the manufacturing industry. A sample of this expansion is that it currently has more than 5 million square meters just for industrial parks1. Between 2012 and 2016, around 500 automotive companies were installed in the State, including almost 100 Asian companies2. The cities that have benefited most from this manufacturing growth are Celaya, Irapuato, León, Salamanca, San José Iturbide, Silao and San Miguel de Allende.
Bajio is one of the most attractive regions in the country to invest, since almost 50% of all Mexican manufacturing is produced in this area3, and if you consider the young population working age (average of 22 years old in San Miguel de Allende) it´s easy to understand why this location triggers international investment
¡Invest with us !
More information
This is one of the main reasons why San Miguel de Allende stands out as one of the most recognized cities worldwide; not only for its tourism potential, but also for its huge capacity in the manufacturing industry, as well as a wide range of entertainment, gastronomy, recreation areas and job opportunities for Mexicans and foreigners.
World-class Infrastructure
Polígono Empresarial San Miguel is an industrial park of 110 hectares that only in 2017 sold out its first phase entirely, it shelters companies from countries such as Germany, Spain, USA, Switzerland and Austria, mainly focused on serving the automotive and agri-food markets.
Some of the companies that have already trusted Polígono Empresarial San Miguel are:
Stant
Rafi
Estamp
Hischmann Automotive
Penn Engineering
Thyssenkrupp
Dräxlmaier
Rieke
As well as the developers Vynmsa and Vesta.
¡Invest with us !
More information
One of its main advantages is its strategic location in the heart of the country, a few kilometers from Queretaro, San Jose Iturbide and the Guanajuato's Industrial Corridor, near the main airports and roads to the US border.
The second phase of Polígono Empresarial San Miguel has 108 hectares, it has regular lands designed to reduce topographic arrangements and minimum infill costs. It also has wider roads that allow better movement within the park.
Organized in six blocks from 71,223.36 to 273,310.07 square meters, each one has lots from 10,000 square meters with independent entrances; Due to its strategic design, each lot allows direct access for maneuvering and transportation.
Industrial Park Polígono Empresarial San Miguel is presented as an alternative to the energy capacity problems happening in saturated areas such as Bajio, which has regions with very little or no energy availability at all. The scarcity of this resource represents an obstacle for company's growth and the optimal operation of their plants.
In addition to having the best systems for supplies, as well as the latest technology tools, it offers a high-pressure fire protection system approved by FM and UL listed.
Likewise, its energy potential is ideal for industries such as plastic injection, technology and robotics, which depend on excellent capacity and performance for its operation. There is an electrical substation of 30 MVA and 30 MVA available for expansion, aimed at establishing the appropriate voltage levels for the transmission and distribution of electrical energy in the park. In addition to a clean energy plant under construction.
¡Invest with us !
More information
In terms of water supply, the park has two water wells with a capacity of 700,000 m3 per year, which allows companies of any kind to run
There is a nearby natural gas pipeline only at 6.4 km from the park. Natural gas is the lowest-priced fuel and allows significant savings in relation to other fuels, in addition, it causes less maintenance costs, which leads to significant savings, improves the market competition and has a reduction in Insurance premiums.
Availability in the best industrial park in Bajío
There is currently land for sale on which you can build custom industrial buildings. It is a perfect space for investment, located in the state with the highest manufacturing growth rate in the entire country, and is ready to receive new companies that want to enhance their capacity for expansion and economic growth.
Learn more about Polígono Empresarial San Miguel and its investment opportunities. Schedule an appointment to find out more by clicking on the next button.
Sources:
1 Asociación Mexicana de Parques Industriales Privados.
"Panorama del mercado inmobiliario industrial 2019".
https://ampip.org.mx
https://ampip.org.mx/wp-content/docs/Mercado%20Inmobiliario%20Industrial%202Q2019.pdf
Consultado el viernes 8 de noviembre de 2019.
2 Polígono Empresarial San Miguel II
https://poligonosanmiguel.com
https://poligonosanmiguel.com/es/#infrastructure
Consultado el viernes 8 de noviembre de 2019.
3 Información de PEMSA, diapositiva 4